AVT108AR
Product: Eight-channel active video receiver Model: AVT108AR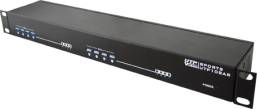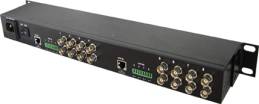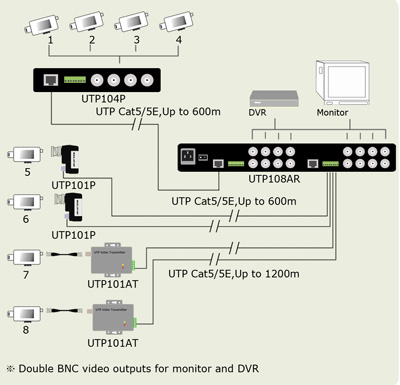 Description
The model AVT108AR is Eight-channel active (amplified) device that allows reception of real-time monochrome (B/W) or color video using Unshielded Twisted-Pair(UTP) cable. The unit receives eight channels of video from transmitters with both RJ45 and screw terminals available for connections as well as provides eight pairs of BNC?video outputs with double outputs in every channel.
The UTP108AR is compatible with passive transceivers (e.g.AVT101P,AVT104P) and active transmitter (e.g.AVT101AT) with transmission distance up to 600m and 1200m respectively. And quality videos can be adjusted in every channel using adjusting switches on the device front panel.
With in standard 1U structure UTP108AR is rack-mountable and excellent for multiple spots surveillance.
Features
Power supplied :220V AC
Transmission signal: 1 Vpp composite video
Signals Transmission via UTP Cat5/5e
Eight active receiver channels in one product
Transmission distance of up to 600m working with passive transceivers (e.g. AVT101P,AVT104P,AVT108P)
Transmission distance of up to 1200m working with active transmitter (e.g. AVT101AT)
Quality image adjusted with adjusting switches available in every channel
Compatible with all bandbase signal including PAL, NTSC, SECM
Video receiving connectors with both RJ45 connector and screw terminals available
Double BNC video outputs
Exceptional interference rejection
Built-in transient protection
Standard 1U structure
Certifications
CE CC

Specification

Items

AVT108AR

Power Properties

Adaptive Voltage Arrange

220V AC(50-60Hz)

Power Consumption

<1500mw

Connector

Standard AC Jack

Video
Transmitting Properties

Supporting Video Mode

All Baseband Signals,
including PAL, NTSC, SECAM

Signal Band

250MHz(-3db)

Balance Band

0-6MHz

Maximal Transmission Distance

1200m (working with UTP101AT)
Transmitting Cable: UTP Cat5E

Attenuation

1.5 dB Maximum

Interference Rejection

>75db

Connection
Properties

Video Output Connectors

8 2 Female BNC

Resistance

75

Connectors for UTP Reception

2 RJ45 and Screw Terminal Sets

Resistance

50

Protections

Video Output Protection

2KV(common mode),10/700us
IEC6100-4-5/1955(GB/T 1726,5-1999)

Video Input Protection

2KV (different mode),
4KV (common mode) , 10/700us
IEC6100-4-5/1955(GB/T 1726,5-1999)

Video Input Protection for Over
Current

Protection for Over 100mA Current

Video Adjustments

Adjustment

4 Blue Adjusting Switches per Channel

Adjusting Categories

Categories: 0-600m, 600-900m,
900-1200m, >1200m

Indicators

Power LED

Red

Signal LED

Yellow

Stability

MTBF

>30,000h

Physical
Properties

Dimensions
(including connectors)
(LWH)

430 95 44.5mm

Housing Material

Metal

The Color of Unit

Black

Weight

1520g

Environmental

Operating Temperature

-20~70

Relative Humidity(non-condensing)

0~95%

Storage Temperature

-40~150

Casing

casing volume(LWH)

550 255 100mm