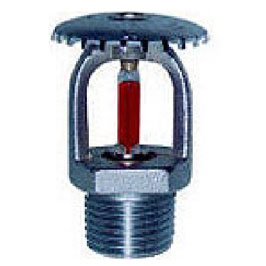 Article No.
S03A04
Diameter
R1/2
Thread Option
57oC 68oC 79oC 93oC 141oC
Description
Response:Standard or Quick
Coverage:Produce a hemispherical water distribution pattern below the deflector.
Installation:Pendent installed in accordance with the standard installation rules recognized by the applicable Listing or Approval agency(Ref. NFPA 13).
Orifice Size:1/2" (15mm)
Thread Size:NPT1/2" or R1/2"(ISOT/1)
Temp. Rating:57, 68, 79, 93 degrees centigrade.
Maximum Service Pressure:175 psig/1. 2Mpa (12 bar)
Listing and Approvals:UL/ULC/CCC (China)
Finishes:Natural Brass, Chrome Plated.