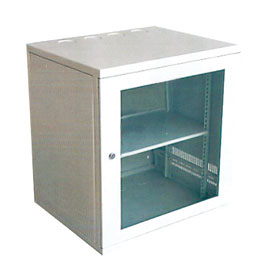 Now production which can be freely assembled and disassembled.
Whole body sprayed static powder and plastic,steel-glass door.
Fully open construction which can be assembled and dissembled ans repaired easily
The height of installing plate and rack can be adjusted randomly
Tow side doors sre designed for disussembling which can be connected
Equiped four directional trukle and adjustive supported bolts on the botton.
With assembing cable holder on the bottom.
Size:600*600/600*800/800*800/800*1000
12U/16U/20U/30U/35U/40U/42U/45U
Ordering information:
Item No.
Description
Size(mm)
601-40
19" Cabinet 40U
600*600*2000
600*800*2000
601-35
19" Cabinet 35U
600*600*1800
600*800*2000
601-30
19" Cabinet 30U
600*600*1600
600*800*1600
601-20
19" Cabinet 20U
600*600*1200
600*800*2000
601-16
19" Cabinet 16U
600*600*1000
600*600*1000
601-16
19" Cabinet 12U
600*600*750
600*800*750