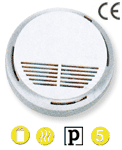 DSW508B are photoelectric smoke alarms, they are generally more effective at detecting smoldering fires which smolder for hours before bursting into flame. Sources of these fires may include cigarettes burning in couches of bedding. DSW508B accords with the ISO/DIS 12239 Standard.

Importance ! please read the manual carefully and save it.
The manual includes important information related to its operation, to ensure your safety, you should install one alarm in every room at least, don't open the alarm easily to avoid bad effect.
TECHNICAL PARAMETER
DC Power: Power: DC9V
Static Current: <10uA
Alarm Current: <12mA
Low Voltage Alarm: 5.5V~6.2V
AC Power: Power: 110V 220V
Current: <25 mA
Alarm Sonority: >85dB(3m)
Working temperature: -10 C~40 C

HOW TO INSTALL THIS SMOKE ALARM
Tools you will need:
* Pencil
* Drill with 6.5ram drill bit
* Standard/Flathead screwdrive
*Hammerr
PDF: size: 154KB


Download Acrobat Reader
WHERE NOT TO INSTALL SMOKE ALARMS

1. Where combustion particles are produced. Combustion particles form when something burns. Avoid installing in the areas include poorly ventilated kitchens, garages, and furnace rooms. Keep units at least 6m from the sources of combustion particles(stove,furnace,water heater, space heater)if possible. Ventilate these areas as much as possible.
2. In air streams near kitchens. Air currents can draw cooking smoke into the sensing chamber of a smoke alarm near the kitchen.
3. In very damp, humid or steamy areas, or directly near bathrooms whith showers. Keep units at least 3m away from showers saunas, dishwhashers, etc.
o o 4. Where the temperatures are regularly below 40 F(4 C)or o above 100F(38 C),including unheated buildings, outdoor rooms, porches, or unfinished attics or basements.
5. In very dusty, dirty, or greasy areas. Don't install a smoke alarm directly over the stove or range. Clean a laundry room unit frequently to keep it free of dust or lint.
6. Near fresh air vents, ceiling fans, or in very drafty areas. Drafts can blow smoke away from the unit, preventing it from reaching the sensing chamber.
7. In insect infested areas. Insects can clog openings to the sensing chamber and cause unwanted alarms.
8. Less than 305ram away from fluorescent lights. Electrical "noise" can interfere with the sensor.
9. In "dead air" space, for example, in Diagram 1,near the corner less than 10cm.
10. If you have a smoking meeting room, don't install the alarm there for the unit will alarm when several persons smoke;




SMOKE ALARM FOR MINIMUM PROTECTION
SMOKE ALARM FOR ADDITIONAL PROTECTION
WHERE TO INSTALL SMOKE ALARMS

1. At first, you need install them in your bedroom and routeway, and should install one item in every bedroom at least.
2. Stairway is important for you to rush out when fires occur, so there must install smoke detectors.
3. You at least require one smoke alarm on every floor, including finished attics and basements.
4. Install one alarm beside every electric facility.
5. Install smoke alarms in the middle of ceiling, because smog, heat and flashes always lift to the top of rooms
6. If some reasons cause you can't install them in the middle of ceiling, you need to install them at least 10cm away from the wall.
7. If you like to install them on the wall, they should be installed 10-30.5cm away under the ceiling. Diagram 1.
8. You need install more than one alarm when the length of your hall exceeds 9m.
9. In an ablique roof room, install the alarm 0.9m away from the top. Diagram 2.
10. How to install smoke alarms in a removable house. The removable house is short of heat isolation, so you'd better install the alarm 10-30.5cm away from the ceiling. for safety you need
install another one near your bedroom, too.