Description:
Description: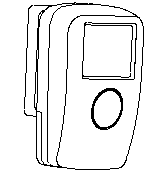 The PIR (Passive infrared) SENSOR is a compact, portable or wall mounted unit, which requires no wiring. It will alarm when a person crosses its detection field, the unit is suitable for home security, off-limits, visitors chime and burglarproof when business travel.
Features:
·providing most reliable monitor through day and night;
·high sound volume alarm;
·Battery powered and no wiring required;
·While being wall mounted 120°adjustable.
Installation and test:
Set the switch OFF. Remove the battery cover and insert a 9v cascading batteries into battery compartment,
Slide the switch to open state ,the unit will alarm, after 20~30s it stops, that indicates it is normal. The switch position: OFF\L(low sound)\H(high sound)
Position the unit in a stable place, such as table, etc. or insert it into the bracket installed on the wall with screws, Adjusting the bracket, let its field of view aim at the region to be detected. The moving person have to cross the sensing fingers of the field of view.(like the following sense diagram);
sense once, the unit will alarm at once , the alarm time is 20~30sec.
Important:
The unit should be checked by walking test periodically to assure proper operation. lf the unit does not work properly, immediately replace the batteries and retest the unit.
Remove the batteries when use not required for a long period of time.
No block is allowed between the unit and desired area of detection.
The unit and its detection area should not be exposed to direct sunlight, heaters, electric fans, etc.
The interval between the first induction and next induction should be 5sec.
Customers who bought this product also purchased: